Lately I've begun to notice my tendency to romantically idealise something and then just naïvely throw myself in to it. I often commence something with little initial knowledge or idea of what's realistically required to complete the task or even what I expect to gain at the end of it. It was exactly this pattern of behaviour in my life that drew me in to filmmaking.
In October 2012 my fledgling aspirations to produce films laid their roots in the wilds of Western Mongolia, where my friend Jamie Bunchuk and I had ventured to in order to live with nomadic Mongol-Kazakh eagle hunters and complete a two hundred kilometre horseback ride. This short stint was to serve as preparation for a much longer sixty three day horseback crossing of Eastern Kazakhstan just six months later. Both the Mongolia and Kazakhstan expedition were part of a four-part Central Asian documentary project called One Steppe Ahead, which was originally inspired by Anglo-Irish explorer Sir Charles Howard-Bury's multi-month horse ride and argali sheep hunting expedition to Kazakhstan's Jungar Alatau range back in 1913.
Whilst in Mongolia I spent those three weeks with Jamie and Alpamys, our eagle hunting friend and master horseman for the ride, joyously fumbling around with my Sanyo HD1000 pocket camcorder and a Drift HD action camera. Back then I hadn't a clue how to shoot a logical sequence of scenes nor how to effectively tell a story through moving image. I'm of course still learning today! However, all I knew was that I was having enormous fun being behind the lens and learning on the go as I ran around the snowy steppe trying to capture various angles of Jamie and Alpamys riding on horseback.
What resulted from that trip was a twelve minute film titled Wild Steppe, which was later shown at the Chamonix Adventure Festival in 2013. When I began editing up my first short film, I was quickly learning that the post-production phases are way tougher and less rewarding than the filming itself. It took me forty hours of work to piece together those twelve minutes and then some London crack-addict burgled my home, stealing my laptop and forcing me to do it all again. Such is life.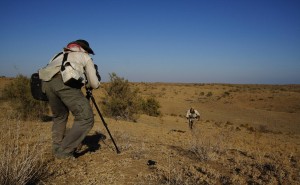 With my first film complete, time was now fast approaching for our Kazakhstan horse ride and our remaining Central Asian projects. For both Jamie and I life was each stressful in our own individual ways during the lead up to our ride and the five months we would end up spending out there. Aside from having to wind up a bespoke manufacturing business I had for seven years been emotionally invested in, the rest of my mental quandary came from having to figure out exactly what filming equipment to take. All I knew was that I had to be entirely self-sufficient, both in terms of being able to operate my equipment independently and efficiently, but also having a setup to back-up my data and charge whilst off the grid.
In the end the critical pieces of equipment I chose were a Canon 60D (primary lens was a 40mm and 10-22mm), Sanyo HD1000 as back-up, Rode VideoMic, iFootage WildCat Stabiliser, Manfrotto 190XPROB with fluid video head, Drift HD, two Goal Zero Nomad 27 solar panels, two UniPal Plus Universal Chargers, a 10" HP netbook for data storage with a bombproof Peli Case and two Transcend ruggedized hard drives.
Those sixty three days in the steppe, travelling with our three horses in up to 45°C heat proved pretty testing. But having to film it really added a whole new angle and level of difficulty, particularly in terms of packing away the equipment each time it was used (it took us three hours every day just to get the horses ready!). On top of that I had only a few hours of practice using the DSLR for filming prior to leaving the UK.
 The aspect that I ultimately found most daunting was spending those five months filming those these three remaining projects, but the whole time never being entirely sure if all that effort I was spending shooting would result in anything of editable value – after all, I had only ever made a twelve minute short film. If it wasn't for a bit of training and guidance by the excellent Austin Vince of Mondo Enduro fame, I would have felt even more out of my depth in trying to shoot scenes and transitions; which he taught me were critical structures to follow if I wanted to make a documentary film.
Ultimately I wanted to try and give myself a decent chance of producing something of moderate production value. I was afraid of coming back with a useless bunch of footage showing off our white middle-class faces screaming in pieces to the camera and constantly proclaiming our stoicism in the face of tough expedition conditions. On looking back at the footage now in the early rough cut stages of this film, I think I would reel in this self-hating attitude of mine a little bit to encourage me to collect more pieces-to-camera, no matter how narcissistic I feel it makes me. Putting my opinions on this matter aside, I hope that Under an Eastern Sky, the official film of the Kazakh journey will be an informative and worthwhile watch!
After completing our project in Kazakhstan and resting up for two weeks in Almaty recovering from too many weeks of eating dried noodles and packets of salt, we found our butts bumping and grinding their way down the Pamir Highway in to Tajikistan. We had come here to meet with Orozbek, who lives not far from the Afghan and Chinese border. Our aim was to shoot the third film project titled A Portrait of Orozbek. Much to our surprise this project was something we conceived over a few beers in Almaty and a fortunate collaboration with the helpful Murghab Ecotourism Association who originally put us in touch with Orozbek.
Having already completed a full rough cut of the film which recently showed at the Telegraph Outdoors Show in London, I can say that this was by far the most rewarding thing I have ever shot in my very short career as a filmmaker. It was a real honour to be able to sensitively document Orozbek's way of life high in the Pamir Mountains and to get the chance to produce a film that was ethnographic in its focus. It showed me that producing a film can be done cheaply and on a short time scale – three weeks and five hours of footage in this particular case which resulted in a forty minute documentary. This approach also applies to the fourth and final film in the One Steppe Ahead project titled 'Through Grains of Sand and Sun', which is about Jamie's 160km run through Uzbekistan's Kyzul Kum Desert.
With all the filming now complete the biggest task ahead for me now is in finalising these films in to fine cut form and navigating the complex world of exactly how to best get these films to as wide an audience as possible. At many points since returning from Central Asia I have had to fight that second pattern of behaviour that has somehow crept its way in to my adult psyche; which is of being my own worst self-critic. It leads me to get concerned that there will be no audience for my work or whether I'll ever get good or lucky enough to make a living from filmmaking. However, it's through these times when I'm lost in that cloud of self-doubt that I realise that this is part of the process in any creative endeavour and one that everybody faces at certain times.
Fortunately through my all my early experiences of trudging gear through the dusty steppe, sandy desert and lofty mountains I've now got a better idea of what's required to make a film and I look forward to seeing what other storytelling opportunities life presents!
Matthew Traver is due to release all four of his films in one DVD and download package titled 'Steppe, Sand and Sky' this spring. If you would like to find out more about Matt and his films please visit www.matthewtravercreative.com.