There´s no doubt in my case that it was books which made me choose this odd life and I really need to be surrounded by books to feel really content with life. For this reason I have written two articles about books I recommend:
1. 10 best books about adventure and travel to read over Christmas
2. 5 most complete travel books ever
And lately I have been given a lot of opportunities to review other people´s books and enjoy it immensely, so, please, if you have a book you want reviewed, please send it to me.
Bicycling Around The World
By 
Paul Jeurissen
(Bicycle Traveler Publications NL)
   I have read quite a few around the world on a bicycle books throughout the years. Obviously since I have spent a few years myself in the saddle I both enjoy it, but I also find myself quite critical. Today, being a family man with responsibilities, a lot of the cycling books are by young men and women trying to find themselves. Just as it was for me. And as I have always claimed, cycling is by far the most demanding way to travel. Way harder than mountaineering or polar travel. But generally, most of them are quite similar in approach. Finding themselves and seeing the world at the same time as they describe what they experience. Proper travel. Now, as everything in life, development is good. And I have been waiting for a new approach to this genre. It has arrived.
Paul Jeurissen and his partner Grace Johnson have done an extra ordinary journey, of course, but it is the way they present it as a book which thrills me. This is a photo book by a middle aged man who is a professional photographer. He isn´t searching for the meaning of life as much a a young person, so his photography is much more interesting and mature. In fact, his book is a photo odyssey with themes which thrills. Details. beauty. People.
It is the best around the world cycling book I have seen in years! A must have for the real traveler as much as the arm chair one. My only critique is that the ebook format just ain´t good enough. These photos need to be in a large coffee table sized book for the owner to take an easy look at when needed to get inspired. Having it on a computer just isn´t the same. I suppose it is an economical reason, but a damned shame it is.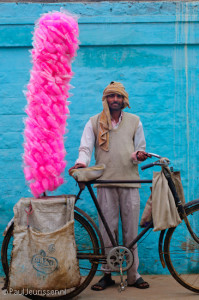 Finally, get it!
About About Paul Jeurissen. In 1981 he cycled the Transamerica trail. During this trip he not only met his future wife Grace Johnson, but also fell in love with photographing the American landscapes, people and the bicycle journey itself. Back in Amsterdam he studied photography at the Fotovakschool Lex Werkheim Instituut and John del Campa Studio.
In the 1990's he began specializing in bicycle imagery and developed a new photographic style 'The small red cyclist.'
"These pictures show a little red bicyclist pedaling through monumental scenery. The cyclist gives a sense of scale to the enormous landscape. It is still an exciting theme after all these years and I'm always on the lookout for new photo locations."
Since 1981 Paul and Grace have taken numerous bicycle/photography trips, totaling more than 4 years over 4 continents and in 2010 they set off on a multi-year journey "Bicycling around the world in search of inspiring cycle images". The challenge will be to not only capture the experience of cycle touring but also photograph the diverse bike cultures they pedal through.
"Bike culture is fascinating since it has so many different faces which can be visualized, from the urban areas in Bangladesh, where a bicycle is an important means of earning an income, to the subcultures of the western world with all their communities, activities and shows."
"It's a thrilling time and we enjoy sharing the result of the photography project on this blog. Every week you can view new images as we travel from one country to another."