(Swedish version first followed by the English)
Pam väckte mig kvart I fem. Norrsken. Igen. Så jag skyndade mig upp och ut med kameran i högsta hugg. Glömde hur man spotmätade, men vilket evenemang det är varje gång. En riktig, riktig höjdare i livet!
Jag har nyss fyllt alla husets kastruller med snö. Slut på vattnet. Dusch röret har fryst. Minns ni det där dyra duschhandtaget? Det läcker. Jag har ringt till leverantören, han skulle skicka en rörmokare, men han måste ha åkt fel. Ännu inget. Så ingen har duschat sedan jag kom hem. Vi går till en vän och gör det. Hantverkarna här är som i övriga världen, dyra och kommer aldrig.
Kylan har anlänt. Det har varit runt 20 minus några dagar nu, lite varmare idag, kanske 12-13 minus, men visst är vintern här. Färjorna verkar ha slutat gå, helikoptern har anlänt och viken här nedan har bitvis frusit till is. Det känns kallare än förväntat. Lite sibiriskt över det hela, så det gäller att vara ute så mycket som möjligt, för dagarna blir allt mörkare. Solnedgång runt halv tre, så tjejerna går till skolan i mörker och kommer i stora drag hem i detsamma.
Jag säger äntligen!
Kylan och vintern är helt klart en av anledningarna att vi är här. Jag har varit ute och skidtourat ett antal gånger nu och det är en oerhörd frihet och kärlek jag upplever. Lokalborna är ute med hundarna och slädarna. Även de tycks älska denna tid! Men kylan tar kraft, jag är trött om kvällarna, helt klart och det tar tid at hitta rätt med alla grejer igen. Expeditionspjäxorna har ställt till problem med öppna sår på vänsterbenet, livsfarligt om det var en polarfärd, men nu är det ju inte det. Än. Bäst av allt, Pam ha också kommit ut och älskar det.
Jag känner att vintern blir fantastisk. Därute. Men tuffare inomhus.
English version:
Pam woke me up 4.45. Arctic lights. Again. So I made me way out from the warmth, on with the heavy clothes and made my way out. I was so tired so I forgot how to use the spotlight on the camera, so no photos, but what a high light in life it is every time you see it. Spectacular!
I have just filled up all pots and pans with snow. No water. The tank has run out, due tom e trying to sort out the frozen pipe if the shower. It didn´t help pouring on hot water, the whole pipe is frozen. Do you remember my shock over the highly overpriced shower handle we acquired after arrival? It leaks and have caused this, I have called the supplier, he says he has sent a plumber, but he must have lost his way, because I have seen no one so far. So we haven´t had a shower since I came back from Guatemala. We use a friend for this. And as it is in the rest f the world concerning handy people, they´re overpriced and never turn up.
The cold has arrived. The last days have offered below 20 Celsius temperatures, a bit warmer today, maybe around 12 minus, but sure, the real winter has arrived! Ferry's seem to have stopped, helicopters have taken their place and the bay below the house, is partly frozen. It is colder and harder to deal with than expected. A bit Siberian actually. And for this reason, being outdoors is the whole point of existence! Days are getting darker by the day, sunset around 2.30, so the girls head for school in darkness and come home when it is getting dark.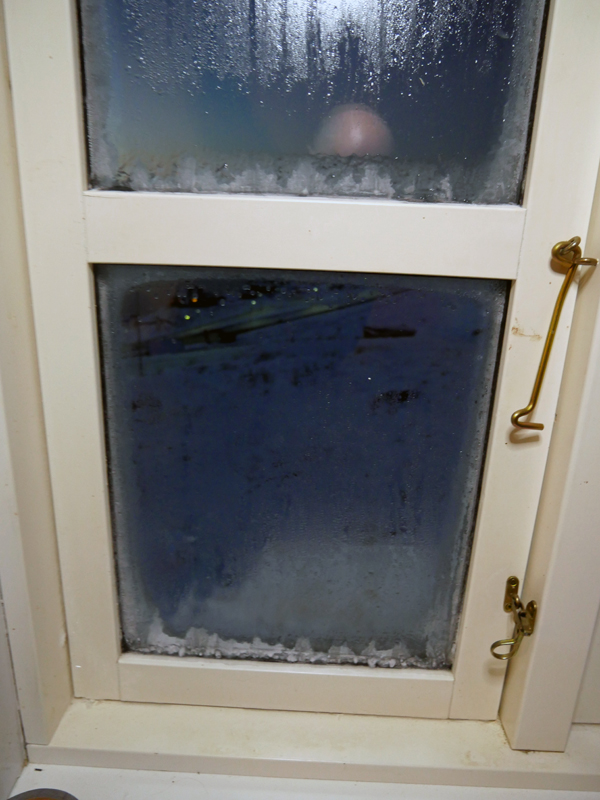 Finally it is here, the winter!
One of the major reason we are here, is to have a proper cold, snowy and demanding winter. I have been out ski touring a few times and love every second of it. Locals are out with their dogs and sledges. They´re seem as happy us me. But there is no doubt it takes adjustment to the cold and right now I am testing all the kit and the Expedition boots have shaved of some skin on my left leg, something which would be costly on a Polar Expedition, but not here. Not yet. Best of all, Pam has been out once with me and loved it.
I just have a profound feeling this winter will be a great time! Outdoors. But harder inside.