I have realized before previous Arctic Expeditions that 4 days
is needed
. Needed to make a fair judgement what equipment works. And which needs improvement. Or doesn´t work at all. 4 days is also needed to get into the old routines, so everything works
effortlessly
.
Once back at basecamp Dagmar, I went through the equiment and made a list of observations. I´d like to share it. Many of you have a great interest in such important detail.
Please come with opinions!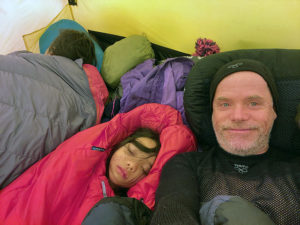 Due to Covid-19 the Greenland team members could not join me. But I had a valid team with me!
My biggest concern after the journey is the food. I am thinking 30-45 days for the Greenland crossing. And 60 plus to the North Pole. And as I remember from the Siberian journey I did like the Real Turmat. But not this time. Their vegetarian/vegan options did not impress. On my Greenland trip back in 2018 I had food from another company. It tasted better, but it´s packeting was not good at all. And I have tried quite a few others, but no good. Ideas are welcome!
The hits of the trip which worked as expect was these:
The Hilleberg tent. It does deal with heavy wind well! But it needs to
be fixed
, since I made a whole with the sharp ski horn when wanting to dry it out. There´s some small issues due to heavy use.
The skis and bindings from Åsnes. Long skins
is needed
though for steep and long climbs. I was to lazy to change the short one´s I had on. The bindings get clogged up with ice on and off and needs to
be cleaned
every evening. I lost one basket on my skipoles. Two gone now. It happened when I was checking the depth of the snow to put camp. Same as previous time.
The Polar Ski Boots from Alfaskor with the liner,
extremely
comfortable! But way to warm of course. I had a thin sock, but still…
The warmest sleeping bag there is, Spitsbergen from Helsport
was used by
the girls. They loved it!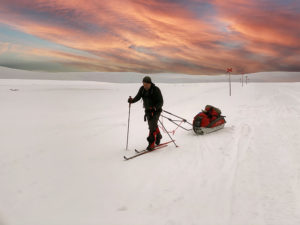 A manual watch is a must of course. So happy with my Expedition one from Boldr Supply Co.
The Termo thermals, the thinnest with holes all over, perfect. All the thermals from thin to thick does the job. But are, of course, not windproofed. So
I believe
I thin outer Goretex jacket is enough.
The stove and cookware kit from Soto outdoors is
really
easy, functionable and trustworthy
. The cookware kit is so light, has a lot of details, like a cutting board, a little basket to keep food warm…excellent! I do remember
however
that I had some issues with the stove when -30 degrees C in Greenland. I need to test it in low temperature to be sure. NOTE! The stove has to be
fully
wind/cold protected from sides and underneath. A huge difference in fuel consumption.
The Fjellpulken did its job! Packing has to be perfect to avoid a roll on and off. But it is comfortable with solid bars! With the traces, well it will take time to get use too! We here in Scandinavia are so used to skiing with the solid bars between skier and sled. I still need to get it fixed for the damage I did on it in Greenland. Anyone good at patching up fiberglass sleds?
The tech kit is a problem. I didn´t think the solar panel was enough. I brought three powerbanks and a battery pack. It did the job, but for four days. the Suunto watch…is
just
useless…filming was hard! Worth remembering….
Ledlensers headlamp with 4 AA pack works
really
well. Much better than the rechargeable ones.
The girls Gneis outfits are formidable.
Maybe
I should ask them to make the kit for me?
I didn´t get to try the Julbo glasses, since the girls forgot theirs and used mine. But they were happy!
A thermos is
just
…dead important. Warm water in the morning, great for lunch. A 0.75 is enough for one person. Stanley rules of course!
What I didn´t bring…Of course, as usual I forgot a bunch of needed things.
Like the Leatherman with its tools, the duck tape, camp down boots (it helps a lot to avoid having to pull the boots on every time one needs to go outside) and a wind sack
. The cold wind drains and it takes at least half an hour to build a reasonable snow wall to make a difference. Even though the mentioned would have helped, one gets by.
These practise trips have to
be done
regularly
for sure!