We did a test walk, Tanya and me, today. 10 km.s in the worst Midday heat. Easy. Tanya did real well, I kept up a 5 km/hour speed and she tagged a long easy, carrying 2 litres of water in her Camelbak and our lunch. She had my shoes and they worked perfectly and only her rucksack gave her some shafing, but not too bad. She is up for it with her great positive attitude and fun loving character. She even handled a few km.s in what we desert travellers call "the oven" with ease. A stretch with no winds, just dead calm and one feels baked. We walked along a paved road, so it was of course, really easy. Tomorrow we will do a 15 km stretch in the same speed. Camels normally average 3-3.5 km.s an hour carrying 50-60 kg:s. Less in intense heat. We had an easy 34-35 degrees Celsius today, but once in the desert, one of the hottest on earth, we can expect up to 50.
We took a day off negotiations. We slept almost 11 hours. We are that knackered. And the same applies to Mohammed Saaed, our great friend and as a brother too me already, he is upset with the way bedus have done their negotiations. Same for us. So we said, we will change tack and treat them as a matter of fact as they treat us. Like we don´t care. Just as their own attitude. And I called a friend, Amin Gazzim, in Sanaa and asked him to check for camels in Hadramawht. He called back to say they were strong, big and only half price to these  and they could get transported to us for 500 US if we wished. I need to see them of course. The bedus turned up as quick as we started walking, asking for more money again to take us..sometimes I wonder about they´re ability to assess a situation….we just said we are not interested. Than they said they also wanted a car to come along with all the food and that they could rest in the car on and off. We said, not interested.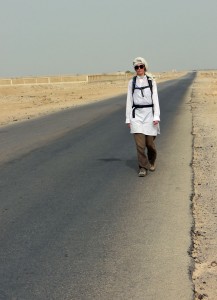 Walking in the Midday heat caused a sensation. Every passing car stopped and asked if they could pick us up and asked why did we wanna walk and suffer like this? Many invited us for lunch. All non-Bedu who did that. Yes, i am still upset with the attitude they show these bedus. They complain to Tanya they need all this money, 7000 dollars(!) for hospital care for themselves afterwards because walking is so hard…..they want backup cars…I just don´t like lazy moaning people. It is against every good virtue in my book. An Expedition is working hard from early morning to late night. Every day. Enjoying and understanding why one does it. Tanya is doing very, very well. she has a great attitude, always happy and positive, always works hard and helps out. She has all it takes as an Expedition partner. She is like a sister, almost a daughter to me.
When we came back to town from the walk we sat down on the counter of a duka,sipping an ice cold non-alcoholic beer from Becks (divine!), and one of the Bedu sheikhs turned up and said he had a strong, big and calm male camel for 2500. So he has gone down in price just in a day with a 1000 dollars. We said we ain´t interested. He said he will then leave town tomorrow. We said enjoy your trip.  He said he will buy the camel back when the Expedition is over. How much we said. A 1000 dollars. I said, you want us to train your camel, make him one of the best desert camels in the area and you want to pay a lousy 1000 dollars for it? Not interested we said. Call me tonight he said. Have a nice trip we said. The game continues.
We are waiting for Mohammed to come back from Sanaa. We feel naked without him. He has become such a big part of our life. He is the best of the best. Lots of humor, argumentative, extremely good talker, intelligent, warm and a genuinly good human being. People here in town are really, really friendly and nice.
Tanya and myself have returned back to our original thought. We will do it ourselves, no bedus joining us, destroying the peace with their moaning about being tired, wanting more money. I know this far too well, after travelling with bedus in Oman for quite some time. We will ask Mohammed if he wants to join us. A friend of Tanya, a great guy named Assaf have supplied us with the best of maps and orientation is really easy. I just need to figure out if there´s any wells on route and where they are. and when we know this, no worries. Then it is just logistics. It would be such a joy to do it without these modern, comfortable and money hustling bedus.