"We are muslims and we have no fears for the future" , Mohammed said during the interview and continued; "God is great".
Minutes before, off camera, he had told us about his worries for his childrens future.
"One of my biggest fears is that my children will become as greedy as many people have become here in Al Ghaydah and that they will only help if paid. This is the problem since all these foreign aid agency´s have arrived here. They over pay and after awhile, nobody wants to be a good human being and help. They wanna get payed for everything. And this is the problem we are facing all of us now, you included, they are used to getting paid redicolous sums of money for doing almost nothing."
Doing interviews in this part of the world isn´t easy. People are afraid of any kind of repercussions if they say the wrong thing. At all times it has to be an Islamic theme to the answers. Which is ok if it would be the truth, but when people say other things off camera, we know it is not. official edited answers will only cause further misunderstandings. What is wrong with being afraid and worried? We all are. How can that be bad to say? I will tell you.
"I am worried right now!"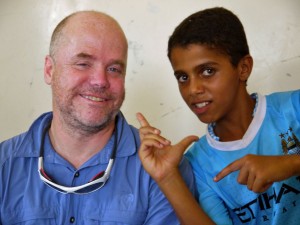 We are still in Al Ghaydah. The same story repeats itself. We meet camel owners and end up in frustration. We feel tricked, irritated and overwhelmed by their economic demands. We have been able to find one camel for a reasonable price we can afford. That´s if the camel is as good as they say. This is impossible to know. We don´t trust the camel owners at all. Zilch. But there´s a possible camel. And we have also found a bedu who will come with us for 3 days to teach us the commands in the local tongue and where to find water and grass. We pay him more than I have ever paid for help in any country all over the world that I have visited. Including my own. But it has all failed on the issue of transport. The camel is less than an hour away and nobody will take us there for under 500 US dollars. This is really irritating us, so Tanya seriously wants us to start walking, carrying our 60 kg:s of weight. This will of course not happen. We just have to have patience.
But all this have put us in serious problems. We just can´t afford two camels. Our time in Al ghaydah, all this waiting has eaten up a lot of money. We invite people, pay their lunches, every transport everywhere, and this eats the budget quickly. So I don´t have that money to buy 2 camels, which is more than one pays for a very good car. So we have to, if it happens, we still don´t know this, set off with just one camel and we have to cut down on weight to half what we wanted, but we have no other choice. These people selling the camels, very wealthy ones, don´t care about us or if it goes wrong. Their only interest is money. There´s definitely signs of them disliking all foreigners. We have talked to other Yemenis coming from the north, like Taizz, Sanaa, Dammar and Ibb and they all say the same;
"These bedus want nothing to do with anyone except themselves. They´re uncultured, unfriendly, wants to be by themselves and it is very difficult doing business with them."
Mohammed is ashamed in front of us and feel as frustrated and irritated as we do. He is Bedu himself, but his father left the village is a young man, went in to the tailor guild and wanted to give his oldest son an opportunity to get a good education. Which he got and this makes a difference. Education is the most important aspect on earth according to me. The lack of it creates poverty, stupidity, unequality, xenophobia, dangerous gossip, hatred and war. And even though most people we meet, many from other areas of Al Mahra, are really kind, there´s definitely a feeling of not being welcome here. Hopefully it is just a case in a "big" city like Al Ghaydah and once we get out of this noisy oven, it will be different. But this feeling seaps through to the highest levels. Yesterday Mohammed took us to the governor to introduce us, due to the spook rumour and to tell you the truth, he immediately asked us if we had permits from Sanaa to be here.
Now, this is something I have gotten used to lately in Yemen, nobody wants to deal with us just in case something bad will happen to us and somebody will have to take the responsability. I can understand this, But you just don´t start a conversation on a negative note. At least not in the northern part of Yemen, the one I know a bit. However, the meeting ended on a more positive note. Mainly due to Tanya working her charms as an translator. At least he didn´t stop our possible journey. But Mohammed was hoping maybe the government could assist us with transport, but he offered nothing, but demanded a copy of the film when finished. This will not happen. But he was just not interested, which I once again can understand, since he has more serious issues to work with. And this has really been the general feeling as regards to this visit in Yemen, this time, they´re just not interested. They have other much more important things to tend to. Fair enough.
We went to Mohammed´s house for lunch, happy to be invited by somebody. He lives with his great family, 20 of them, in a four room flat he hires and pays about 70 dollars a month for this, barely covered by his wages. We pay him 25 a day for helping us. He didn´t ask for it, it was offered and agreed eventually when all his neighbours had been on him that he had to get well payed by us. That is all they talk about, Mohammed said, What do we pay him?
For the first time during my time in Yemen, outside Sanaa, I was able to interview a Yemeni woman. His wife Ummi Abdullah wa Khadeejah was a really nice person, which of course isn´t surprising with a husband like Mohammed. She was really tender and loving to everyone around her, especially her children (5 great kids), shared her love for her husband and was the leader of a local feminist group.
"I am happy to be married to Mohammed, because he understands that women need to be as educated as men and I am doing my first year on my bachelor degree at the university. I hope we can afford another two."
And this is what makes us really, really irritated. Instead of being able to help Mohammed and his family, we have to use our funds to pay off these obese camel owners with their gold watches and brand new Landcruisers. It just goes against everything I believe in. That is also a reason why we are fighting back all the time. We want to show them that all foreigners are not as gullable and rich as these tax funded aid agencies. Being Swedish we pay at least 33% of what we make in taxes, which i don´t mind, some of which goes to fund these aid agencies and whenI realize what some of the money goes to, well, it doesn´t make me feel good, does it? I work my butt off, pay my tax and some of it goes to paying the gold watch and Landcruiser of an arrogant bedu? Naw, no good.
Sorry for being negative. But we are children of our time and culture and time is of essence where we originate from. We can´t change this overnight. We wanna get going. Do what we came here to do. Enjoy, describe this area and its culture. But I guess that is what we are doing by the minute. We are experiencing some aspects of the culture and ways of Al Mahra and the bedus. And, let me tell you that if you read others who have been in this area, Wilfried Thesiger, The Ingrams, Freya Stark and so on, it seems like the Bedus hasn´t changed a lot since those days. They pretty much shared the same frustrations. And their trips ended on a positive note, so did mine I did on the other side of the border 4 years ago with some mountain bedus from the Al Mahra, Omani side. I fell in love with Rub Al khali and have longed for the desert since than. That´s why we are here!
Mohammed just came by on his motor bike, not a 100% healthy, but saying we have a car for 200 US, which is far too much, but better than 500 US. So we will leave tomorrow. In shallah.