2020 was the year trashed by the Covid-19 pandemic. My plans too had been changed and like so many I was 'confined to barracks' writing books and able to train more than ever. From April 2020, 20-mile walks turned into running which I had stopped at the age of 35 over 30 years ago. I progressively reduced my 10 km and 5 km times to respectable for my age. I was encouraged to buy a road bike by my friend James Ketchell and I joined him to ride regularly. These activities added to my twice weekly weights training sessions which had been my constant exercise since the age of 16. I was now training seven out of eight days for the first time since my youth. With good regular sleep and clean eating, I was getting fitter and leaner. Siobhan Gill, a medical doctor and another friend of mine who was also running, riding and open-water swimming introduced me to a diet app called Cronometer and I started recording what I was eating along with my exercise with interest.
The thoughts of another adventure had been running through my head ever since I had met Mikael Strandberg in Qasigiannguit on the west coast of Greenland in 2017. In 2020 Mikael said he wanted to cross the Greenland icecap and I jumped at the chance to join him. I am no stranger to organising expeditions but Greenland was going to be a gruelling adventure for which I had no experience. At the age of 63 (65 by the time of the mission) I needed to have equipped myself physically, materially and mentally for a baptism of fire – pulling a 100 kg sled across the ice cap, coast to coast from Sisimiut to Tasiilaq – a journey of about 45 days.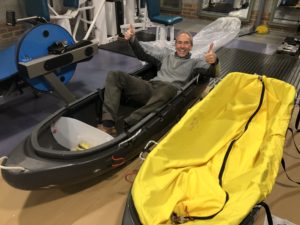 Mikael provided James and me a kit list in August 2020. While Mikael assembled a team of interested and like-minded adventurers, I investigated the insurances, permits and search and rescue requirements. What James and I really wanted was to see Mikael's equipment to understand the detailed issues. We also wanted to talk to him about preparing physically including training and food. However, everything was conducted on-line because various Covid lock downs in different countries at different times prevented our meeting up face to face easily.
I hooked up with Rhodri Lewis of Nordic Life whom we could visit locally in the UK for equipment advice and he helped James and I through Mikael's kit list with sourcing. Obtaining crucial items like sleeping bags and a tent required detective work and determination to negotiate Covid disrupted supply chains. While I have alpine skiing experience and James has climbed Mount Everest, we still had a lot of questions to ask like what size pack, why have a pack, what length skis, how to stay warm with the layering system, how many items of clothing, how to heat water, what kind of gloves, what eye wear, what medical kit, how to carry fuel without it soiling our kit, and so on. Both Rhodri and Mikael were very patient because they both know that it is the intimate knowledge and familiarity with equipment that makes a mission work properly and safely. Mikael introduced us to Eric Philips who is a seasoned polar adventurer, and we took his advice on sleds which are future-proofed and facemasks that fitted perfectly with our headgear. It took over four months to assemble the equipment.
In the July 2020 Siobhan asked if I would join her in building up our running to a marathon distance. I liked that idea and harmonised one of my weekly runs to be with her on her 20-week build-up schedule: I adjusted my eight-day schedule back to seven. So, I had one long run and cycle, a shorter faster run and cycle, two weights training sessions and a walking day. I was resting and sleeping well most days and my diet was well managed and understood. I had started by eating only calories to cover my basic metabolic rate (1700 kcals) plus exercise in order to lean my physique as I wanted to run the longer distances at 82 kg and instead of 87 kg (I am 185 cm tall). I kept my protein intake high while managing my fats and carbs and always having lots of vegetables with little to no alcohol: slowly I got into great shape. At my age I find it much harder to maintain muscle mass than I used to and so easy to lose it. Soon I was eating 2,700 kcals on average per day to maintain the 82kgs and I could analyse the difference between summer and winter with all my data now recorded on my diet recording app, Cronometer.
My thoughts turned to what calorific intake would be required for Greenland and with the addition of the very cold conditions there. Be Well Expedition Food had supported James when he rowed across the Atlantic in 2010. So, we approached Be Well Expedition Food for adventure food advice on how to fuel our bodies with a balanced diet while on such a cold expedition where weight in our sleds would be at a premium, almost nothing would be fresh, and most of it hydrated. These discussions are ongoing, and we hope to conclude and comment in a future blog.
Mikael's own research recommended that we read a couple of books including Fast After 50 by Joe Friel. It was becoming clear that laying down a platform of exercise and building up the workload (aka distances) progressively combined with good body rest, sleep and diet is fundamental especially to the older athlete. As Siobhan and I approach the longer 32 km marks in our marathon build-up schedule I was certainly realising just how punishing running is compared with my weights training, riding or swimming activities. My feet really hurt at the end of each session and I needed longer to feel better before our next run: I had to adjust the walking and the riding to give me two complete rest days. By October it was getting really tough and Siobhan developed the early twinges associated with Achilles insertional tendinopathy. So, listening to our bodies and before we damaged them, Siobhan and I decided to taper down and abandon our marathon attempt in 2020 in favour of being able to ski in the coming winter. I tapered back to 10 km and 5 km running personal bests in both. However, this gave James and I space to begin our experiment with tyre-pulling which simulates dragging a sled and to get comfortable with various harness arrangements and pulling ropes. We would be tyre-pulling a lot through 2021.
By December I had nine months of Cronometer diet data and Garmin Fenix sports data in my training log and was happy with what I had learnt. After a skiing season in the Alps (subject to Covid restrictions) James and I will use 2021 to build a base of tyre-pulling, triathlon and weights training aimed at Greenland and testing new diet plans. My head was in a good place and on the 14 December, I underwent a necessary inguinal hernia operation and face a 4-week layoff before I rehab back to fitness.
Happy New Year, all the best for 2021
Peter Wilson
Adventurer, Pilot, author
Three Journeys Round, Facebook
Two Rotors: One Planet, Earth and Low Level
Geographical Magazine's review of Earth