How in earth do i get the money to make it to the North Pole?
by
Matt George
I think we all enjoy reading a good adventure story. From the tales of the earliest explorers in the Age of Discovery, to Amundsen and Scott, Hilary and Norgay, right up to the present day, with remarkable people like Ed Stafford and Karl Bushby (to pick a few names out of a hat). We all agree that the struggles of these people are truly inspiring. But then most of us settle back into our armchairs and quickly re-focus our attention to the television. But for some a fire is awakened. The imagination is sent racing, and dreams of travelling to remote and inaccessible places, seeking adventures, and lifting life above the norms of the 9 to 5 rat race follow fast. And once these ideas enter one's consciousness, they are almost impossible to dismiss.
The 'fire' can take hold in different ways, and come at different times. With some, it seems they were born with this fire already raging. With others, the fire can be a slow burning flame, which only makes itself apparent much later in life. Environment certainly has a factor- those who spend a lot of time in the wilderness, places of extreme climate, and so on, and those who simply have the opportunity to experience an 'adventurous' life from a young age are of course pre-disposed to later in life becoming interested in pursuing this form of 'career'. Similarly, people have a major influence. A mentor figure can awaken the adventuring spirit like nothing else. Would Mallory have become a mountaineer if he had not met Robert Irving (his master at Winchester College, whom he subsequently accompanied on many expeditions to the Alps)?
For me, the 'fire' came much later in life. I grew up in the far west of Cornwall, England. It is a beautiful area- a small peninsula surrounded by the Atlantic Ocean, and English Channel, with stunning granite cliffs and golden beaches. But, for whatever reason, apart from surfing, which I did all the time, I was not a very outdoors-y person in my youth. For example, I never took advantage of climbing opportunities, which are some of the best in the British Isles. Partly, I never had a mentor- no one said to me, Matt, let's go climbing. Also, partly, I was not ready for this. I was, and still am musician and chose to spend my hours indoors, banging my drums and wailing on my guitar.
What changed? It is difficult for me to put my finger on, and I struggle to say why and when this happened. But in my late twenties I found myself reading tales of adventurers with great interest. I think the great chord that was struck in me, was the desire to challenge myself. To be put out there, somewhere remote, and see just what I could achieve. I guess it was also seeking the opportunity to go to places where few people have had the privilege to tread- a response to a desire I had always had to not fit in with the crowd and to do things differently.
Also, I had become dissatisfied with my chosen career path as a musician. I didn't want to be like guys I saw playing in pub bands at the age of 45, still refusing to cut their hair, and still thinking they're going to make it. And so many of my musician friends were miserable, because they were not getting the success they wanted, and they would continue to be miserable until they found it. I realised there is a whole world out there that MUST be experienced! I had had many years, and many great experiences as a musician, but the time had come to change tack.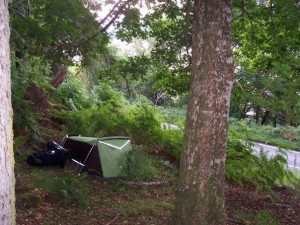 I became obsessively interested in adventure travel. I discovered a kind of mentor figure too, and all from the comfort of my armchair! He gets much criticism, but I have supreme respect for him. He was making TV shows, being dropped off into the middle of nowhere and surviving by drinking from elephant dung and sleeping in dead animal carcasses. This man was Bear Grylls. Whatever you think of Mr. Grylls, he was a catalyst for me, firing my imagination towards what was possible in the natural world. He provided the mentor figure I had never had in my youth.
I also read Karl Bushby's 'Giant Steps'- the account of his truly legendary journey, walking all the way on foot from the bottom of South America, back to England in an unbroken journey, with no gaps. The words that he wrote in the preface, describing his feelings, were the same for me- he was dissatisfied with his career, and felt that he had much more to prove. And to prove it to no one but himself.
At the same I began reading about the North Pole. I found this challenge to be the most inspiring of them all. To journey across the frozen Arctic Ocean was, for me, about as far away from the 9 to 5 rat race as you could get. I started looking into it. There were a few options for a first Polar adventure. Some companies will simply fly you to the Pole. I was disgusted at the thought of this. It would be the same as taking a helicopter to the top of Everest (if it were possible). For me, reaching these places is ALL about the challenge and the struggle. Indeed, the North Pole looks exactly like the rest of the Arctic Ocean! It is never more true to say, it is not about the destination, but about the journey.
Another idea looked more promising. I found a company that runs an event, a race to the North Pole. It seemed perfect, by far one of the cheaper ways I could find of getting involved in a Polar Expedition, with the added benefit of training and support during the race. Let's be honest, I don't yet have the experience to head out on a solo mission to the Pole. I had found the one thing in the World I wanted to do above all others. But the price tag, although cheaper than many Polar expeditions, was still fantasy for me- £18000GBP. I decided it was only ever to be a pipe-dream, and put it out of my head.
Or at least I tried. I don't not think a day has passed in the three years since, where I have not thought of the Pole. I decided a smaller, more realistic challenge was a better outlet for my adventurous inclinations. So on the morning of 21st July, August 2008, I found myself on a bus from Thurso to John O' Groats. I had an approximately 20kg pack full of everything I would need to make a journey on foot 'end to end', as it's known in the UK. That is a journey from John O' Groats to Lands End. These are the two furthest points apart on the mainland British Isles, and a journey of about 900 miles (1400kms).
I completed the challenge in 42 days, walking all day on foot, and wild-camping at night wherever my weary feet decided it was finally time to stop. I had some choice campsites, such as a thin strip of ground to the south of Glasgow, about 20 metres wide, and between an 'A' road and a motorway, with brambles and stinging nettles providing my campground. And I was sorely mistaken by thinking that doing the challenge in the summer would give me the best chance of good weather. Indeed, the sun was shining brightly on my first day, and I was very pleased with myself. And that was the last day I saw it I think until I reached Devon, about 35 days later. I got very used to walking, with my waterproofs long since being compromised, with a sopping wet tent waiting for me. One funny experience was being confined to the shelter of the front the town hall in Lancaster during a thunderstorm. There was no sign of this one passing quickly, so rather than waste time I broke out my camping stove. I must have looked quite a sight calmly cooking my dried pasta meal right in front of the huge door of the town hall as the rain poured and the thunder and lightning rumbled and flashed around me.
I was proud of what I had achieved. I had walked undeniably a long way, walking an average of about 22 miles a day (35km), whilst carrying a load. But let's face it; it was quite lightweight in the world of adventuring. I was never very far from civilisation, and apart from the section over the West highland Way in Scotland, I passed a shop or pub every day. In one correspondence with Karl Bushby, he cheekily said it was a good 'warm up'. And he was right. I still craved the Pole. But the money was simply not there. One thing was clear to me- I was not going to borrow the money and go into debt to do the challenge, so that again, seemed to be that.
I decided to travel. I had always wanted to see Russia, and I decided to incorporate it into an overland journey from England to…well as far as I could get, I was thinking maybe Australia. A year later I had had some great little adventures. I had successfully traversed Yakutia, in Far Eastern Russia, along the infamous 'Road of Bones', via the village of Oymyakon aka the 'Pole of Cold'. This tiny village holds the record for the coldest inhabited place on Earth. The record stands at -71.2°C. I was lucky enough for it to be -54°C during my visit. After that I went to Kamchatka, and indulged in some ski-touring and volcano ascents, all of which I thought would stand me in good stead for my future adventures.
I didn't make it to Australia, and I returned home from Cambodia. But I did manage to fit in another nice adventure in Laos- after much searching, I purchased a kayak, and took it to the far north of Laos, near the Chinese border. And I journeyed solo down the remote Nam Ou River, finally joining the Mekong and reaching the town of Luang Prabang, some 200kms later. I was paddling 8 to 10 hours a day, and camping wild on beaches on the riverbank. The journey was not uneventful. The local Laos must have the shock of their lives as they lazed by the riverbank of their isolated village, when next minute a bright orange kayak comes round the corner, piles over the waterfall (that had not been seen by the Falang kayaker), and promptly sinks, soaking the kayaker and all his accoutrements. There were three other sinkings, insect infestations, and a visit to my campsite by a tiger (which turned out to be some cows, what tricks ones imagination can play!).
I was back in England in August 2010. Polar Challenge was again at the forefront of my mind. My desire to go to the Pole had not lessened one bit. On the contrary. I decided I had to act on these feelings, and try to raise the money by seeking corporate sponsorship. It was late in the season, Extreme World Races needed a £1000 non-refundable deposit by September, and half of the now £22500 entrance fee by November. I knew it was a risky move. Friends and family said wait until next year. Taking advice from various sources I thought, "It is better to try this, and to fail, than to not even try". And, "The first step in achieving any goal is making a definite decision that you are going to do it, whatever happens."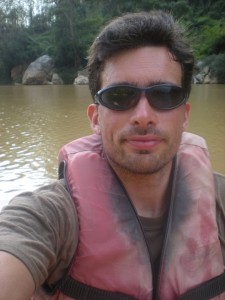 So, I set out to dive into the world of corporate sponsorship and convince some companies, that I, an unknown quantity, with no previous track record of exploits north of the Arctic Circle, was worthy of investing a small fortune in. I am certainly not unique. And I am certainly not alone. How many people like me are there, who given the chance, would be flooding to the Poles, and all the other rarely visited places of the World? Maybe the North Pole would look as crowded as the Queensway ice rink on a bank holiday weekend? And maybe the route to the summit of Everest would be as busy as the Watkins Path up Snowdon on a sunny day in August? Sadly, it all boils down to the same old thing- money! And certainly adventure and exploration have never been cheap. Do you think it was a cakewalk for Christopher Columbus to get three ships to sail off into the Atlantic, maybe never to be seen again? It was not easy then, and it is certainly no easier today, with more and more people wanting to do things like this, and unique challenges becoming ever harder to find.
So where to start? What did I know about corporate sponsorship? I started scouring the net for some advice on strategies. And I bought the mostly highly recommended book I could find on the topic- The Sponsorship Seekers Toolkit. And I put together a sponsorship proposal, describing myself in the most glowing terms that were plausible, and describing my previous minor adventuring feats in terms that made the trials of Hercules seem like short walks to the corner shop for some groceries.
Next I put together, really quite at random, a list of companies I would contact. So I had a list of several hundred companies that myself and a few friends helped create. My 'toolkit' advised to select only companies that you knew had a good fit with your 'event' and their 'target market'. Fair enough, I thought, but in practice that would leave me with maybe only about ten companies at best. So I scrapped that advice and thought it was simply better to adopt the 'throw enough mud at a wall, and some of it will stick' approach.
Then my frustrations began. I set entire days off, lunch breaks, and spare half hours, to getting contact information and phoning and emailing companies. I quickly discovered a kind of quantum feedback effect that exists in the customer service departments of almost all, but the smallest companies- you ring a customer service line, asking to be put through to the company's marketing department. But instead you are re-directed to an answer machine, that I came to realise no one ever checks. This is what I call the customer service 'Black Hole'. Alternatively you can email customer service lines, but I also realised that these emails simply are sent through a wormhole to some parallel universe, and only there is it ever read, let alone replied to. And of course we all know that wormholes only work one-way. At least customer service ones do.
There is an impenetrable wall at the first point of contact, specifically to screen undesirables like myself. "We have simply too many random people calling us every day asking for money to listen to any of them!" You have to answer a riddle, a bit like the chicken and the egg. You want to speak to the marketing department, but if you don't know a name of a person working in this department you will not be connected. And of course, they will not tell you the name! A few times when I was lucky enough to find a gap in this first line of defence, a few people said that due to the ever-increasing number of people asking for sponsorship and handouts, they had simply stopped sponsoring anybody, preferring to work closely with some carefully chosen organisations.
Of course, a few people genuinely said that my event simply didn't fit with how they saw the image of their product. I couldn't argue with that, but couldn't help wondering if what they were really saying was, "Who are you? Why on Earth should we give you this sum of money to go to the North Pole?" I also couldn't help wondering myself, despite the benefits of sponsorship I was touting, whether there were really any tangible ones to offer at all. Apparently Polar Challenge is televised in over 100 countries, but have YOU ever seen it? Maybe, but did you go on to buy any of the products you might have happened to glimpse advertised on one of the contestants pulks? Almost certainly not! I guess I have always been cynical about the effects of advertising anyway, so I must, for my own sake, remain faithful.
A few times, I had a positive reply. "This will be the one!" I told myself, excitedly, working myself into a frenzy, imagining myself already feeling the crunch of snow beneath my feet. But they came back to me, saying that their superiors didn't feel that it fit with their projected image for the coming year, or that they had spent their budget for that year. Indeed, I knew it was late in the day to be trying to get the cash together- November was looming fast. I suppose anyone who has ever succeeded in raising large sums of money for an expedition by corporate sponsorship will tell you it's a full-time job. I can confirm this. Indeed, it seemed like a much greater ordeal than the 320 nautical mile trek to the Pole. That would simply be a breeze compared to this. And a lot more fun!
One lesson was learnt above all others. In all my efforts to gain sponsorship from a company, in maybe 1% of cases I was actually able to speak to the relevant person who actually had some influence on how the marketing budget was spent. It is the same with almost anything in this World- it is about who you know. Contacts, contacts, contacts. 99% of my efforts to approach a company were a total waste of time, simply because the relevant person or department never even knew I existed. I experienced similar frustrations as a musician. The actual playing of the music I wanted to play was only possible after negotiating a maze of networks, schmoozing the right people and scratching the right backs. Mastering these things is a necessary to skill to allow one to advance in any chosen path, and sadly they have nothing to do with the actual thing you really want to do. And sadder still, they seem to be things I'm not very good at!
Eventually I had to admit defeat. November came and went, and I had not raised a single penny towards my trip northward. I had lost my £1000 deposit though. I retreated to Siberia for a few months, licking my wounds, disappointed that I wasn't going to be taking advantage of the Siberian winter to train like a madman for my race to the Pole.
It's a new year, and a new season of fundraising can begin. I want to go to the Pole, the first of many adventures I planned, more than ever. I have been spending the winter in Siberia, Nordic skiing and ice-climbing, and have some small adventures planned for the summer, all to keep the ball rolling, and to improve my experience and credibility. The global economic crisis continues, which makes it as bad a time as ever to try and coax money out of people, but what can I do but try again? All I can do is dust myself off and start banging my head against that brick wall once again.