(Swedish first, followed by the English version)
En dröm går i uppfyllelse!
Så nu skall dokumentären Ett Grönländsk Äventyr ha internationell premiär för bio versionen. De flesta filmare drömmer om premiär på IDFA, Sundance, Hot Docs eller liknande. Inte jag. Min önskan var något mycket annorlunda. Och den slog in!
SÅ när ni läser detta är jag på väg till denna plats vid världens ände. Om jag kommer dit vet jag inte. Denna hets och panik med corona viruset ställer till problem. Ikväll vet jag om jag ens kommer in i landet. De har en handscanner som avgör. Om jag har mer än 37.1 i temp, så vet jag inte vad som händer. Men jag kommer inte att medverka på filmens internationella premiär. SÅ jag lider av resenervositet
just
nu. Och oro. Jag begriper mig INTE på denna panik alls. Fakta tas inte in!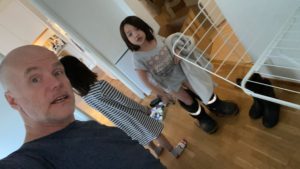 Men det är som det är. Ett äventyr är det på sitt sätt. Kommer det att gå eller inte? Vad händer om jag har 37.2 i temp? Blir jag isolerad i två veckor på flygplatsen?
Ikväll vet vi! Följ med på detta underliga äventyr! Kanske ni av bilderna kan gissa vart jag ska? Tack Håkan för Termo grejerna!
My documentary Man With A Family – A Greenlandic Adventure is going to have its international premiere
. Most film makers dream of IDFA, Sundance, Hot Docs or similair. Not me. My dream was a very different place. Something unique! And the dream came true!
When you read this I am on route to this extra ordinary place at the end of the world. If I get there, that´s another issue. This extreme scare of the corona virus is causing problems. Silly ones. I don´t even know if I get into the country where I am heading. And handscanner of my body temperature will decide. If I have a body temperature of more than 37.1 degrees C I won´t get in. And I have know idea what will happen to me then. I do know I want take part of the internatinal premiere of my film. SO I suffering from travel angst and worries now. I do not understand this panicky handling of this situation at all. Facts
are forgotten
!
But it is what it is. It´s an adventure in its own way. Will I get in or not? WHat happens if I have 37.2 in body temperature? Will I get stuck two weeks in isolation at the airport?
We will all know tonight! Join me on this the oddest of adventures I have done! ANd, Håkan att Termo Thermals, great thanks for that big parcel. So
maybe
you all can figure out where I am heading? By looking at the pictures?