-29 degrees Celsius this morning. I had to go and get milk, bread and kefir (yoghurt) for the hungry girls. On my way out I saw a student feeding the stray dogs. It warmed my heart. And that is my main memory from Kazakhstan, the helpful, generous and thoughtful people. Nevertheless, Kazakhs in general don´t say a lot, they get on with their lives until they get to know you. And, vodka helps in bringing people together. The old Soviet rule of drinking vodka, as many other leftovers from this era, still has importance. If you consider the fact that Nikita Khrushchev was a strong abstainer of alcohol before he made his way up the party line during the Stalin years, when he became an unwilling alcoholic, because Stalin wanted everyone around him to become drunk and loose control over their tongues and say what came to their hearts. It was an unwritten law. These unwritten rules have a tendency to stay on for some time.
The last days in a country has a tendency to be concentrated on matters related how to get home, what to bring home and prepare for returning home. In our case, since my wife is extremely lucky to be able to stay another 2½ months, we have used the extremely slow Internet at the University way in to the early morning hours, to order clothes for the girls, they begin nursery school a week after we arrive home, and sheets, duvets, towels, since we have been away for 1½ year now. And my strong sides in life are not those matters. I wrote this note on the subject yesterday: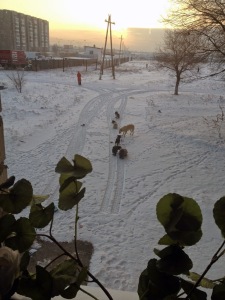 15 months. That is the time I have been a home dad looking after my two daughters. It is soon coming to its end when we return to Sweden and they will be going to nursery school. Both of them. It has been my best time in my life. And by far the most important. My daughters have grown into two spirited, happy and entertaining human beings in the mean time. They, at least Eva, feel more like good friends today. I would not hesitate to take her on a big and difficult Expedition.
It hasn´t been all easy. I am still the one who needs to earn money for us to survive and our economical situation has made us end up in quite challenging areas on earth which have been really superb professionally, but not always easy on the family side. And working at the same time as looking after these two speed boats of kids, does make me quite exhausted and I have spent many sleep less nights trying to figure things out. But we are a tight family of doers, so all is well. You just have to take every chance you get when the kids play paddling down the Amazon or other games shouting for me to help them to rid themselves of crocodiles. And once my wife gets back from her work each day, it is of course far easier.
Both in Moss Side and here in Karaganda we come across as an odd family where the dad is home and the mother studies. I like that. Challenging peoples way to look at life. For us it is very natural and this is the time for my wife now. I still have made a journey during this opportunity, 2 months with my daughter in a pram/stroller and a documentary to be. And I have another one coming up.
Have I become a better dad? Absolutely. Always the kids first, but I always question myself as a dad. I am just to damned weird and at at times I try to juggle work and children at the same time, well, most of the time, and that is not good I think. But due to the economical situation, this is what I have to do.
But I do look forward to having 6-8 hours per day now, day time, to work my butt off without having to stop for some reason and go to the gym. But I will be happy to go and pick them up ever day and be with them all weekend! And it is time for a bit of comforts, like a bigger apartment in the center of Malmö City, with a sofa, a 520 Internet line and space for the kids to roam around both inside and outside. For a while. 3 spacy rooms, a space hall and a spacy kitchen feels like real luxury! But it has a price…And, these last three months I have done all cooking in one big pot. I look forward to a better kitchen!
I will miss many things when leaving Kazakhstan, far more than I look forward to when I come back home. One such thing is the ability to take the whole family to some really good sporting events. The other day we went once again to the Karaganda Arena and we saw the home team Sary-Arkah play Torpedo from Ust Karagorsk. The Russian second league, VHL. Stadium was almost full, the game was really fast and thrilling and the cost for the whole family for good seats, taxi back and forth from the University (due to the cold), popcorn and meal out plus a scarf was 3900tenge. Like 13 pounds (14 dollars). Football is even cheaper. And there´s no hooliganism here!
The game started off with a silent minute and a tribute in the shape of the Russian National Anthem for Victor Tichonov, the great coach of probably the best team in history, the Soviets who won everything. And yesterday I talked to my very good friend Bengt "Fisken" Ohlson, who coached the Swedish National team in the 80´s, he met Tichonov often, but since he didn´t speak English, they talked with their hands. And Fisken knows the Russian National Anthem a lot since they almost always lost.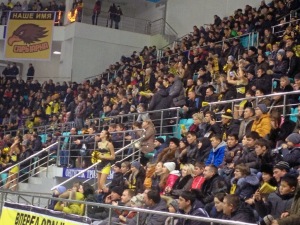 Our time in Kazakhstan and Karaganda have been a very important and enjoyable one. Actually I would say it is one of the high lights in life. I don´t know what I expected. But as usual, most of the info I found about the country before leaving Sweden was overwhelmingly negative and dominated again by the Anglo-Saxon world of media and research centers. Obviously, as in all other other countries on earth today, including the UK and the US, Kazakhstan are facing their own problems which are a legacy of the past. I actually expected to see way more social problems which affected all former Soviet states when they broke free of the Union, but I have seen far less than expected. Instead I have come across one of the most beautiful and exciting countries on earth, with an exciting past and a promising future. For me and my family, this has been one of the best and ost interesting times in our life! And once I get back, I have ordered books for 200 dollars, I will read and research during a few months, apply all that to what I have seen and make a layman's assessment.
This evening, due to the fact that we went to the Sigis Market and the Uzbeki shashliki chef for dinner and had grilled duck skewers, I walked backed through the old part which is like the village. A distinct smell of coal followed every step I took, no street lights, all black, except a bit of poor light streaming out from the house windows, which are always covered making it impossible to look in, dogs barking in the dark and I heard my own waking in the cold snow. Temperature almost reached -30 Celsius this evening. I made me remember my fantastic year in Siberia back in 2004-05. Kazakhstan has made the same profound impression on me. I am very happy my wife and my kids finally got a feel of what I have been talking about all these years.
Kazakhstan should definitely be on everybody´s bucket list!