(Swedish version first, the English one follows)
Nuuk
Jag kom just nu hem från en promenad till downtown Nuuk där jag köpte alldeles nu 8 besprutade franska äpplen på rea för 35 spänn. Underbart, underbart goda!
Vi börjar verkligen uppskatta tillvaron i Nuuk nu. Vi har fått ett mycket trevligt socialt umgänge, vi börjar fatta hur man skall handla, så allt bara är dubbelt så dyrt som i Sverige i stället för tre gånger nu och vi behöver få lite pejl på allt som rör det grönländska. I stora drag så att finns oerhört många varianter av det grönländska och inte bara en enda identitet, om man säger så. Mycket av det jag läste om innan, stämmer inte och bilden av ön som världen får veta, den är högst snedvriden.
Nuuk är exempelvis mer spännande och varierat än jag fått för mig innan avfärd. Här finns egentligen det mesta en modern människa kan önska, och omodern för den delen, som exempelvis teater, bio, alpin skidbacke, preparerad skidspår, caféer, skådespelarutbildning, universitet med mera. Till följd av detta, så finns det många spännande människor här med spännande berättelser om livet. En av de frågor jag har är hur definierar man grönländskhet? Det framkommer är det är ganska svårt att definiera vad en grönlänning är, är det en individ som pratar grönländska och är född här? Eller någon som känner sig som en grönlänning? Men kanske är dansk? Flertalet jag träffat känner sig som både och med en förälder som är danskfödd.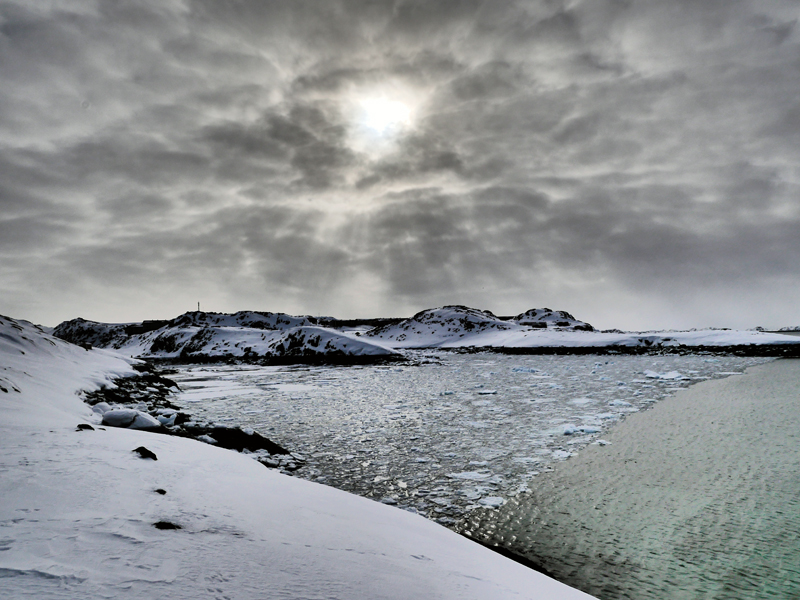 Det är många möten just nu och det tar oerhört med energi för de har mycket att berätta. Två till idag. Pam är nu mer fri från sina studier, så jag får mycket hjälp av henne och döttrarna är fulla av liv och har anpassat sig fint till vinterklimatet som idag var ganska kallt runt -20 grader. Vädret svänger många gånger per dag och vinden känns evig.
Familjen har inte varit tillsammans så här oavbrutet, ja, på mycket länge. Dvs, dygnet runt och vi har alla varit vana att ha tillgång till ensamhet. Med det har gått över förvänta bra och vi löser ensamhetsbehovet på olika vis. Pam går in i sina studier, jag går mina timslånga promenader, oftast med en av tjejerna och Eva och Dana, ja, de är tillsammans mest hela tiden, men Eva får sin ensamtid genom läxorna. Dagisbarnet Dana är van att vara med folk hela tiden.
Enda haken är en lirare på våningen under vår som genomgår olika psykoser och spelar en sorts slinga av karaoke musik från U2 om och om igen, med honom som själv som trumslagare, oftast om nätterna på hög volym. Ingen höjdare om man säger så. Han vägrar öppna när jag knackar på dörren.
Nuuk
(English version)
I just returned home to the flat from a walk to downtown Nuuk where I bought 8 genetically modified French apples on sale for 4 euros. They are wonderfully, wonderfully tasty!
We are really beginning to enjoy life here in Nuuk. We are beginning to get a nice social life, we are by the day getting how to buy food and stuff which then end up only double the price in Sweden, instead of 3 times as expensive and we are slowly getting to understand Greenland. Basically by understanding Greenland is complex and there´s not one thing which can be defined being Greenlandic. Most of what I read before coming here just doesn´t fit the bill, actually it does come across as very wrong.
For example, Nuuk turns being way more interesting and varied than I first figured before coming here. You can find anything here expected from modern, or unmodern, living, for example a theatre, a cinema, alpine downhill resort, prepared ski tracks, cafés, a school for actors and actresses, ballet, a university and much more. Due to this fact, there´s plenty of interesting people here with interesting stories of life to share. One of my main questions is, how do you define greenlandishness? It turns out there´s no easy answer. Is it an individual who speaks Greenlandic and is born here? Or somebody who feels Greenlandic? But might be born in Denmark? Most of the people I have met feels like both and have a parent who is either Danish or Greenlandic.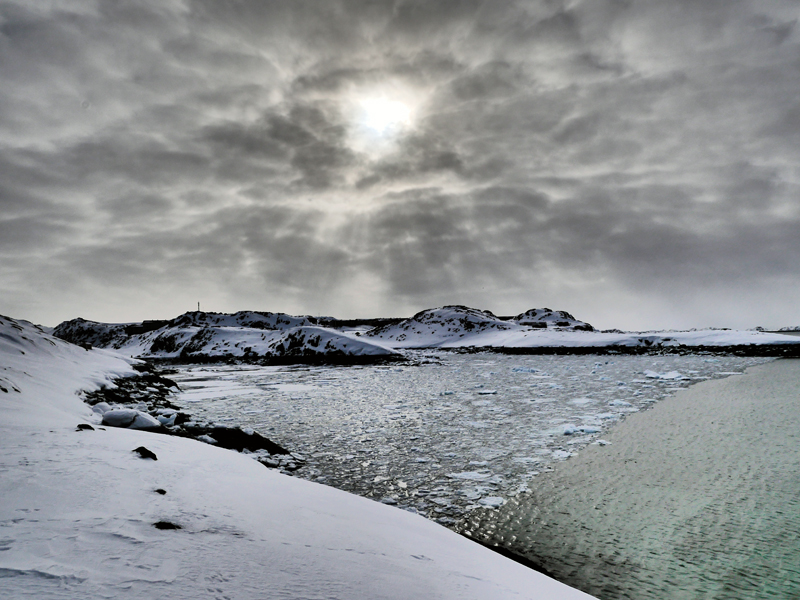 There´s a lot of meetings right now and they use a lot of energy because their stories are fascinating. Two more meetings today. Luckily Pam has more time now, less studies, so she is helping me a lot and that does make a difference. The daughters are very energetic! They have adapted well as usual. They are very good at this, I see. Temperature today is around -20 degrees Celsius, but the weather pattern is unreliable and changes many times every day. And the wind seems eternal.
We haven´t been together as much as this for a long time, the family. By which I mean day and night without interruption and we are all a bit of loners in need of self-time. But it is work out very well so far and we deal with our self-time needs in our own ways. Pam goes deep into her reading and her studies, I do our long walks, generally with one of the girls and Dana and Eva, well, they´re together most of the time, even if Eva get some self-time through her homework. Preschool Dana she is used to having company all the time.
The only glitsch is a young fella in their apartment below us who passes through a series of psychosis playing the same song over and over again on high volume, a song by U2, with himself being the drummer. The smell from the flat is strongly of haschisch. Not a highlight if I my say so. He doesn´t open the door when I am knocking.